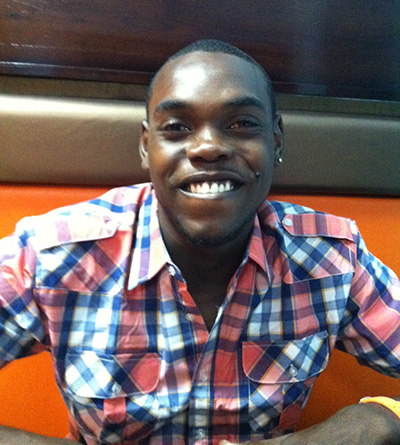 About Desrick Gordon aka Nice
Desrick is a young Vincentian poet, singer and songwriter who goes by the name of Nice. In 2009, he was invited by the Prime Minister, Dr. Ralph Gonsalves to write a promotional song for the election which gained high-profile recognition on the island. Desrick is also known for appearing on IK TV in the programme 'Dance Hall Times'. At the age of sixteen, he faced death following a stabbing and subsequently had a change of heart about his own violent background as part of a gang. Since that time, he has written peace songs and uses his creative talent to bring his local community together. He lives in the village of Vermont with his grandmother, girlfriend and son Shady.
How we met
I first sought out Desrick Gordon during my stay in St. Vincent in 2011 having been told 'there's a brilliant young poet and rapper you should look up'. When we did meet on the beach at Buccament Bay, we traded  poems like long-lost friends and realised we had a common language even though we come from very different worlds and there are two generations between us! Such is the power of the word to transcend boundaries when it speaks of the language of the soul….Desrick has an extraordinary story to tell and it is impressive how he is turning his life around. I know Frank Jones, his former Head Teacher, who was a great help to him both at school and throughout his recovery.
Today's Meeting
Desrick and I had a long meeting today as a result of which I  invited him to become our Peace PAX represenative on St. Vincent.  He is very excited about his role in helping to establish Peace PAX work on the island as he wants to be a good role model for his son and for young Vincentians. We will be creating an action plan together which we will both present as part of  The Global Circle of Peace Benefit event at Flow Wine Bar & Kitchen in Kingstown on 2nd February.